fuciade

Fairy tale bike tour.
Alpine pastures, woods on comfortable roads and paths, between "tabià" and elegant alpine refuges, with typical mountain cuisine.
It starts with the cable car from Falcade. The route is not difficult, the view is superb with a unique skyline on the Belluno Dolomites.
We reach the basin of the "Fuciade", the wide pastures and we cross the Val Fredda meeting some groups of cozy mountain pastures, grazing cows and horses.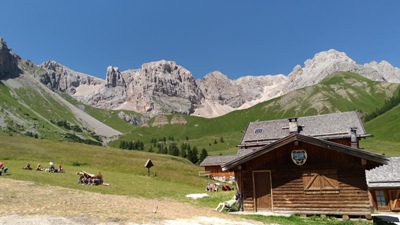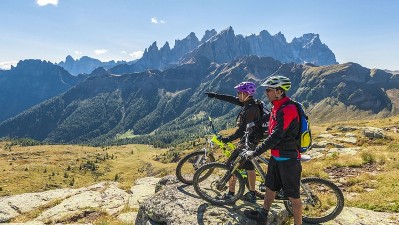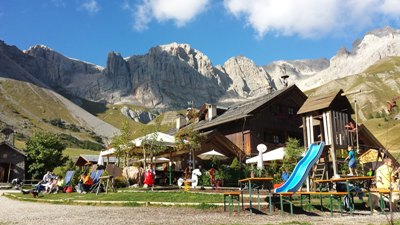 Fuciade is a word that indicates an activity, as well as a location: you will not make it difficult to understand the meaning.
A fairytale environment envelops us all the way back, along a downhill path up to return to Falcade passing through some villages of characteristic Ladin architecture.
A baggage of sensations to be included in your memory album!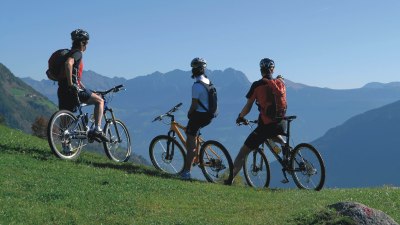 What we will do
We start from Falcade with the gondola lift. We cross the pasture of the Valles, we go down to the Passo San Pellegrino, we reach the pastures of Fuciade. The route is on comfortable roads closed to cars: only a stretch of a few dozen meters on the road open to cars will be the only contact with the world of engines. The rest is all natural. The return will take place in the woods through the settlements of Valt, Somor, to the point of departure.
Difficulty
distance km. 22 - difference in height + 250 / -1100
Road with natural background without cars, stretches to forest path and short stretch on asphalt road with car. Suitable for boys.
Where will we meet
The starting point is the park in front of the "Molino-Le Buse" cableway.
https://goo.gl/maps/QpP9qdJyWVu
via Fornapiana Pie' Falcade BL
What will I provide?
AIG2R professional bike guide, bike and helmet (mandatory), tasting of mountain pasture products
What is available not included
E-bike. Lunch in refuge or malga (better to book)
What the guests must bring
Waterproof jacket, waterproof clothing and footwear suitable for the environment, glasses, sunscreen.
Guest Requirements
Minimum age: 16 years
Group: min. 4 max 8 participants
Prices per participant
bike tour € 79.00
lunch € 25.00
ebike € 30.00


You can pay with PayPal or by booking via email for more info at This email address is being protected from spambots. You need JavaScript enabled to view it.
specify the bike tour code: dol003 - Fuciade